25.5.19 by Kylie Bailey, Good Sense Marketing
TetraMap founders Jon and Yoshimi Brett have taken on a new challenge – building a sustainable home. It's a process that's seen them successfully apply the same knowledge and leadership lessons they first developed when creating TetraMap over 20 years ago. 
Walk through the salvaged rimu wood doors of Tanglewood and your eye is instantly drawn to the Hauraki Gulf's piercing blue ocean ahead and its mottle of green islands.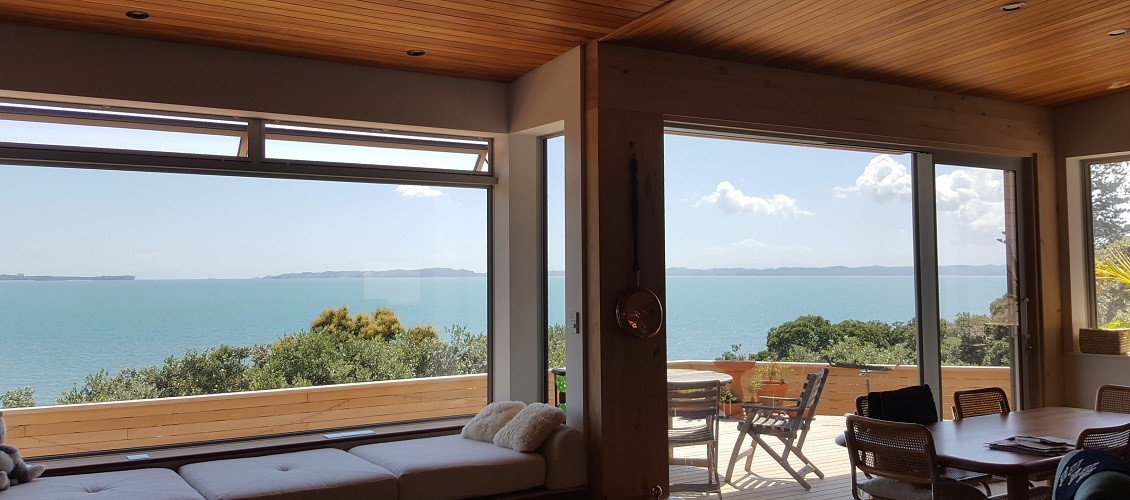 Now it is a view immortalised in the warm cocooning space that is Tanglewood – Jon and Yoshimi's new version of Jon's original family home. Named by his Dad in honour of trees and tangled bushes, the site continues to be grounded with a strong sense of place today.  Tanglewood is located in east Auckland at Waipaparoa-Howick Beach, Aotearoa, New Zealand. Its design and build focusses on a sustainability principle to "step lightly on the land" and the new house nestles in amongst Pohutukawas next to the sea.
A Natural Harmony: TetraMap and the Living Building Challenge
To qualify, this inspiring suburban home must demonstrate forward-thinking sustainable design. It generates its own energy, gives back energy, and like TetraMap, embraces all four Elements – EARTH, AIR, WATER and FIRE. The energy goal is to generate 120% of annual energy needs, contributing energy to the National Grid and regenerating energy consumed in the construction.
During the living building journey – from design through construction, Jon and Yoshimi applied the training tools they developed over 20 years ago to ensure values alignment between processes and project members.
"Our whole focus was on how can we work better together so that the house is an example to build on for a more nature-friendly future" explains Jon.
They used the Living Building Challenge's three principles to guide the Tanglewood project, plus added the fourth, Fire Element principle for balance: The principles are for the project to BE:
| | |
| --- | --- |
| | Like Earth: FIRM and Ecologically Restorative |
| | Like Air: CLEAR and Socially Just |
| | Like Water: CALM and Culturally Rich |
| | Like Fire: BRIGHT and Inspiringly Creative! |
How could TetraMap be applied to achieve this?
Just like they did when they created TetraMap, the project is exemplified by their unique approach to leadership – one rooted in caring for people and the planet –  and making intentionally conscious choices.
What was agreed very early on was that TetraMap could support the team to deliver an innovative, quality home that melded practical thinking (EARTH) with robust processes (AIR) that recycled and reduced all waste (WATER) while maximising talent and creative uses of resources (FIRE). 
How can this project be used to shift thinking in the building industry?
What Jon and Yoshimi knew from the outset is that Tanglewood would not just be a house build. Using TetraMap's creative training tools in every decision – from design to construction to completion – they were able to ensure values alignment between process and project member, no matter how big the challenges they faced.
TetraMap has also ensured that this is a project that will lead to a mindset-shift for the construction industry. It's about encouraging people to do things differently and to think "out-of-the-box" for solutions that can catalyse change.
What was agreed very early on was that TetraMap could support the team to deliver an innovative, quality home that was founded in practices that were both responsible and sustainable – vital to reflecting TetraMap's vision of reducing conflict and leveraging diversity.
What other ideas in the building process could facilitate wider behaviour change?
Reducing waste was critical at every stage and every person on site put their time, energy, effort and concentration into ensuring nothing was thrown out that couldn't be recycled off-site, or preferably re-used in the construction of the new house.
Remarkably, less than two skips of rubbish were sent to landfill for the entire build.

The rimu ceilings and floors are constructed of recycled wood from the original family home and the front door handles, staircase banisters, even chair footings are made from Guava tree branches from the original garden.
Energy is generated from the sun, with nine solar panels in front that can be adjusted for winter and summer, plus another 18 solar panels fixed flat to the low pitch roof.
"Not only do we generate more energy than we use, including charging an Electric Vehicle, but we also contribute energy into the national grid to help regenerate the energy consumed in the creation of the building," explains Jon.

When asked how long the break even is for their investment in solar power, Jon replies, "Our solar system cost less than our new driveway and neither are intended to earn income".
Not only does the house regenerate its own energy, but it also captures non-potable water in a 10,000 litre tank for use in the garden, flushing toilets and in the laundry.
No steel beams? With very large windows, the common solution is to use steel portals.
The Bretts insisted on laminated timber instead of steel, a huge 1200% cost saving to the environment of in terms of embodied CO2!
Biophilia – Connecting humans with nature 
Another way TetraMap was used to bring people together was in response to the Living Building Challenge's requirement to host a Biophilia workshop. Biophilia refers to the integration of Nature and structure and was a key concept kept front-of-mind throughout the design and build process. The goal of the workshop was to educate the wider community about the living building process and to incorporate nature from the start.
The Bretts always plan and work on the premise that diversity is key to finding sustainable solutions. The realisation that there was no one on the design/build team with an Earth Element preference, foreshadowed all the successes, and hiccups that were to come.
"The Living Building Challenge isn't like your usual construction," says Jon. "It needs to be a collaborative process between the owners, designers and the builders figuring out the different requirements for the individual site that comply with both the living building philosophy and the building code – Nature is diverse, never just black and white!"
Providing On-Site Solutions
Of course, no build is without its challenges. A difficult time for Jon and Yoshimi was when drafting-phase collaboration was stifled. It's interesting that over the course of the year-long planning, they conferred with four architects…and started the build with none.
"We had to part ways with two of the four over values issues…which says a lot." says Yoshimi. "Fortunately, we re-connected with a friend from my Greenpeace days in the 90's who is a Licensed Building Practitioner.  He saved us and the project. I call that 'balance' and staying true to one's values."

Clarifies Jon: "The circumstances changed, and this demonstrated our ability to flex as the situation evolved."
Then, a year down the track, there was the realisation that they wouldn't be moving into their new home to celebrate Yoshimi's 70th. Like most building projects, the whole process ended up coming in over time, over budget.
"The budget blowout was more about unanticipated complexity and going for high quality, sustainable, non-toxic options rather than choosing more economical ones," explains Jon.
For Yoshimi, it was also a particularly trying time, and when she referred back to one particular TetraMap value. "When things are out of balance, I always revisit our "Responsibility" value. To take Responsibility means recognising thoughts and behaviours that blame, rationalise, deny or quit. We replay what could have been done differently. We needed to BE more Earth, simple as that."
Despite such inevitable bumps in the road that come with any kind of building project, all involved in the project team say TetraMap and Jon and Yoshimi's knowledge of how to interact and communicate with people was vital for the success of the project.
"Working with Jon and Yoshimi was great," says Ross Davidson, the site manager who worked with them day to day for 2 years. "They had quite a clear vision and we worked together to create it. I liked that they had methods (TetraMap) to help people relate and to achieve the results. This included meeting strategies with flipchart pads to record ideas plus they kept communicating help with process."
Meanwhile, BioBuild owner, Alan Drayton says Jon and Yoshimi's knowledge of how to respond to people was what helped with the project's success.
"They know how to be heard and they have a willingness to sort things out. For me personally that was really rewarding."
The Bigger Picture
Since creating TetraMap, Yoshimi and Jon have endeavoured to model its messages of sustainability through waste reduction – waste in all its forms. What they've learned is that modelling and shouting out are not enough.
Yoshimi: "Waste has become a global habit. Habits are hard to break and require radical change and sacrifices to move toward ecologically-minded, regenerative futures."
Their closing thoughts explain why they approached the Tanglewood build with TetraMap. They say,
"Time is of the essence – there's no time left to think about how to be more sustainable. It's time to act as if our lives depended on it… because it does. Like Earth: BE firm; Like Air: BE Clear; Like Water: BE Calm; Like Fire: Be Bright!"
Tanglewood shows the powerful and beautiful results that can be achieved when individual perspectives are respected and the diversity of nature is harnessed to its full potential.
Now daily, they sit back and enjoy Nature's power, beauty, love and inspiration.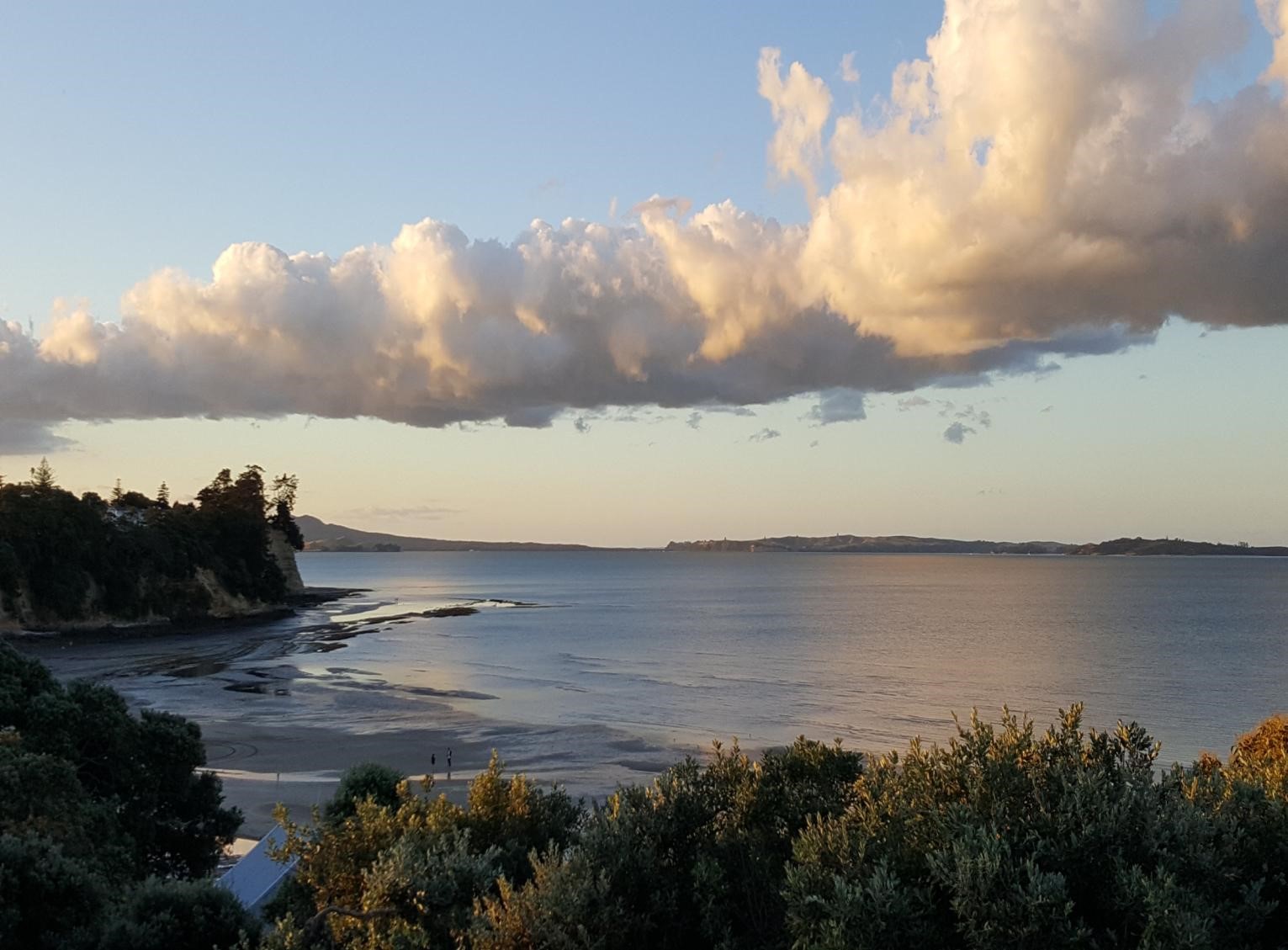 Return to Case Studies