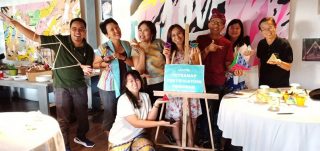 Simple, robust, and memorable
TetraMap is a globally proven learning model designed to improve team cohesion and collaboration, boosting productivity, customer service, and sales. See what other facilitators have to say about their experience on the right.
 Why get certified?
To qualify to purchase TetraMap resources.
To integrate the model into your specific training solutions.
To experience how TetraMap catalyses mindset shifts to facilitate change.
 Who by?
The TetraMap Facilitator Certification course is delivered only by Master Certified TetraMap Facilitators. There are currently 11 Master Facilitators globally. It is a requirement that Master facilitators are practitioners and contribute to TetraMap's development via on-going projects, case studies and/or research. Visit the Masters' page to learn more about each.
New Zealand: Louise Duncan, Jan Alley, Kataraina Pipi, Nikki Hommes, Stuart Fleming
Australia: Robyn Walshe
UK: Anne Clews, Martin Coburn, Nicki Davey, James Farrow
Mexico: Alex Villarreal, Jessica Jiménez
Singapore: Yap Pik Hwee Raymond
 The course
The course is designed for trainers and facilitators committed to supporting and accelerating positive change. It is a 2 to 2.5-day journey (based on regional differences) filled with information, evidence of successful applications in an energised learning and practice-focused context.
The process
Regional diversity calls for differentiation of paths and policies toward certification. Click on your region and take your first steps to becoming a
Certified TetraMap Facilitator:
Maintaining active status
Active Certified TetraMap Facilitators are supported and marketed by their regional TetraMap distributor.
Certified TetraMap Facilitators are "Active" for one year from certification.
Active status is maintained with continued purchase of TetraMap Resources.
Active status can be renewed at any time with the approval of the local distributor and may involve re-certification.
View our current Active Facilitators
Post-course support
TetraMap International and our Licensed Agents Anne Clews Consulting (UK) and Odisea Consultants (Mexico) are known for their support of Certified Facilitators. TetraMap's accessibility to our network of Master and Certified Facilitators provide on-going support regarding product applications, instructional design, proposal submissions and conference presentations.  The TetraMap Certified Facilitator network links amazing people doing amazing things that make a difference!
Professional development days
PDDs are informative, fun, and interactive learning events to integrate and deepen your understanding of TetraMap and its many applications. PDDs are organised as independent events or as extensions of the TetraMap Facilitator Certification Course. Check with your regional distributor for opportunities, or see our current courses.